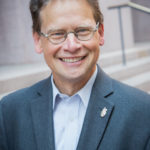 By JORGE RIOPEDRE
September 16, 2020
I had the opportunity to do a number of activities during the Memorial Day weekend, and there was a palpable sense of joy that the pandemic and its related restrictions are easing thanks to the increasing number of people who have been vaccinated. But for many who live north of the "Delmar Divide," that joy is tempered by the effects of inequity that pervade all aspects of life, including the aftermath of COVID-19.
According to a recent article from the Missouri Hospital Association, a glaring pattern is present in the statewide rates of COVID-19 vaccine coverage and poverty.  The writers show that, due to a variety of social determinants of health including early misinformation on the virus, dense household composition, and labor market dynamics that are prohibitive to remote work and physical distancing, the pandemic has had a disproportionately devastating effect on the communities north of Delmar.
Moreover, there have been pronounced disparities in the rate of COVID-19 vaccine initiation along the Divide. The article notes that, through the first week of May, the average percent of the adult population with at least one dose for St. Louis city and county zip codes north of Delmar Boulevard. was 37.6%, while the average initiation rate for communities to the south was 47.7%.
This is yet another reminder of how wide the divide continues to be, how much work there remains to be done, and how important projects like Delmar Divine and other endeavors are to the future not only of north St. Louis City, but our entire region.