Equitable Development for North City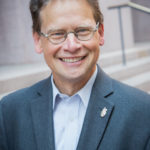 By JORGE RIOPEDRE
September 16, 2020
These past years have actually been economically good ones for the City of St. Louis. Since 2010, St. Louis has grown its jobs base every year, and according to the most recent complete annual data, city employment growth was faster than national growth for only the second time since the Great Recession. And yet, the good news has largely bypassed North City, a testament to the infamous "Delmar Divide."
Since you are reading this, you already know that Delmar Divine is trying to change this through investment in the nonprofit sector and the West End neighborhood where our campus resides. But if there is to be a real renaissance in North City, it's going to take the efforts of a wide range of stakeholders.
Fortunately, many projects and initiatives are underway that bode well for the future. Among them are:
The development of 207 acres from Kingshighway, to Page, to Taylor, to Delmar with $1 million of residential construction currently underway and another $2 million set for the spring, to be followed by a $30 million construction of a 150 unit apartment building.
The Urban League recently moved its headquarters into the old Sears Building, along with the Save Our Sons and workforce development programs, with the goal to bring all 55 organizational programs under one roof and serve as an economic hub for African American women and people of color-owned businesses.
The next phase of the Great Rivers Greenway from Trojan Park up to the old Eskridge High School site is out to bid, and the final pieces between Wellington and Pagedale up to the St. Charles Rock Road are in the planning stages (Trojan Park won the Urban Land Institute's "Open Space America Award," along with Domino Park in New York City).
The St. Louis Development Corporation (SLDC) completed its Equitable Economic Development Framework to ensure economic development happens all over the city, but particularly North of Delmar in partnership with all of the neighborhood organizations.
The restoration of the historic Wellston Trolley Building which, when completed, will include mixed-use retail and a restaurant on the first floor. And it will house minority-owned startup businesses to help stimulate economic activity in the community.
The Page Boulevard Redevelopment was officially launched by Better Family Life, Inc. to revitalize this predominantly African American neighborhood that spans from north of Delmar Boulevard to Martin Luther King and from Skinker to Kingshighway. This year alone has seen nearly $700,000 invested in the project.
These are just some examples of the activity focused on North City that Delmar Divine is proud to be included among. As the SLDC Framework states, addressing the challenge of equitable urban economic growth requires the commitment and capacities of a broad set of public, private, philanthropic, university, and community stakeholders employing a range of tools to address foundational issues of place, prosperity, and people. It's an acknowledgement of what we have always known to be true: our fates — Black, Brown and White; city and county — are intertwined. We either prosper together, or we all inevitably decline.